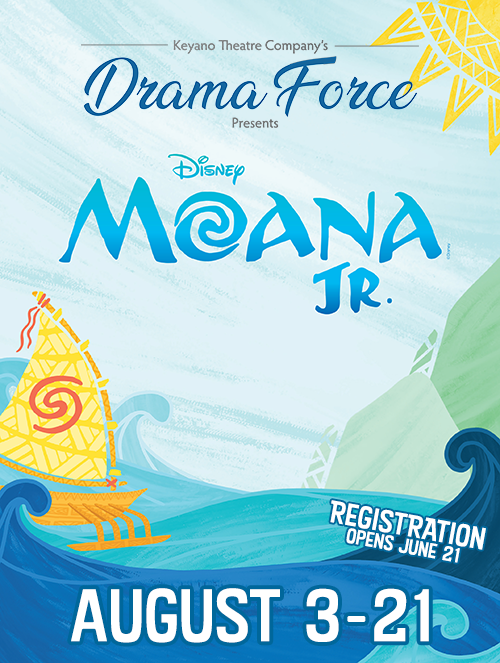 Drama Force Disney's Moana Jr
When
Occurs on Tuesday August 3 2021
All Day Event
Venue
Event Notes
×
Young Actors' Summer Program: Presented by Keyano Theatre Company
Drama Force is Keyano Theatre Company's Young Actor's Summer Program! KTC is proud to provide an exciting theatrical learning experience and creative performance opportunity for youth aged 10 to 17, led by industry professionals. The actors will learn performance skills in various disciplines such as voice, movement, dance, acting and improvisation and the dynamics of technical theatre. Over the three-week program, running August 3rd to August 21st the actors will advance their creative knowledge and have fun in group classes led by industry professionals. The summer program ends with three public performances at Keyano Theatre.
Dates:
Weekdays, August 3rd 2021 - August 19th 2021 8:30 AM - 4:00 PM
Friday, August 20th 2021 1:30 - 8:30 PM
Saturday, August 21st 2021 12:30 - 4:00 PM
This year we are pleased to present Disney's Moana Jr.
This thrilling and heartwarming coming-of-age story follows the strong-willed Moana as she sets sail across the Pacific to save her village and discover the truth about her heritage. Moana and the legendary demigod Maui embark on an epic journey of self-discovery and camaraderie as both learn to harness the power that lies within. With empowering messages of bravery and selflessness, Moana JR. is sure to bring out the hero within each of us.
- Drama Force 2021 will take place in person, with all rehearsals and performances taking place on the Keyano Theatre Stage.
- There will be two performances on Friday, August 20 at 3:00 PM and 7:00 PM and one on Saturday at 2:00 PM.
- We will require each participant to consent to having their names and images used for our marketing/archives, playbill and the lobby callboard.
- Each applicant will be required to submit a brief video introduction.
- Details and a consent form with more information will be sent to each registered participant.
- There is a mid point lunch break each day. Lunches are not provided.
The safety of your children, our staff and our patrons is of the utmost importance to us. Covid-19 precautions will be in place to adhere to current AHS, Provincial and Municipal Government and Keyano College guidelines.
Please contact the Keyano Box Office regarding any refund questions concerning Covid related illness or Covid isolation circumstances.
If you have any questions about the Drama Force program, please contact our friendly box office staff at boxoffice@keyano.ca