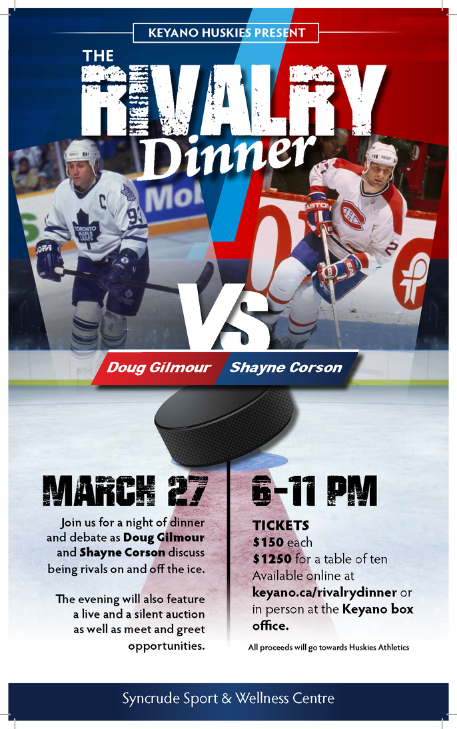 Rivalry Dinner
When
Occurs on Friday March 27 2020
Approximate running time: 5 hours
Venue
Event Notes
×
Once fierce rivals, former National Hockey League stars Doug Gilmour and Shayne Corson are coming to Fort McMurray on March 27 for a fundraising dinner in support of the Keyano Huskies. The guest speakers for The Rivalry Dinner have played for both the Montreal Canadiens and Toronto Maple Leafs, teams that have had a long standing NHL rivalry dating back to 1917. Gilmour played for the Maple Leafs from 1992 to 1996 and the Canadiens from 2001 to 2003. He also proudly holds a Stanley Cup ring as a member of the Calgary Flames from the 1988/89 season. Corson played for the Canadiens from 1986 to 1992, 1996 to 2000 and then played for Maple Leafs in 2000 to 2003. He also played almost 200 games for the Edmonton Oilers in the mid-1990s. This will be an interesting and entertaining evening that will include riveting stories from these two respected NHL players as they reflect on their part of the longest NHL Rivalry.
Player bios:
Doug Gilmour – Although only 5'10", Gilmour played hockey throughout his career like a man much larger. He played 20 seasons in the NHL; starring for the Calgary Flames (22 points in 22 games) as the team won its first and only Stanley Cup, and earning 127 points in his first season as a Maple Leaf (a franchise record.) The Leafs made him captain in 1994, which he remained until he was traded to New Jersey in 1997. He then bounced between Chicago, Buffalo and Montreal before returning to Toronto. In 1,656 games, he finished with 510 goals and 1,092 assists for 1,602 points. In more recent years, he served as head coach, general manager and president of hockey operations with an Ontario Hockey League team, resigning last November to become a community representative for the Maple Leafs.
Shayne Corson – Infamously known to be a fearless and talented left-winger, Corson established himself as a powerhouse forward in the NHL, scoring 273 goals, adding 420 assists along with 2357 penalty minutes in 1156 regular season games. He served two stints the Canadiens, adding up to more than 11 seasons and played for the Maple Leafs for three seasons. After 19 years as a pro hockey player, he retired in 2004, but Corson has not stopped trailblazing. Off the ice, he has dedicated his voice to raise awareness on mental health and ulcerative colitis — a disease he suffered from since 15.
Please call the Box Office: 780-791-4990, or come see us in person for tables of ten.