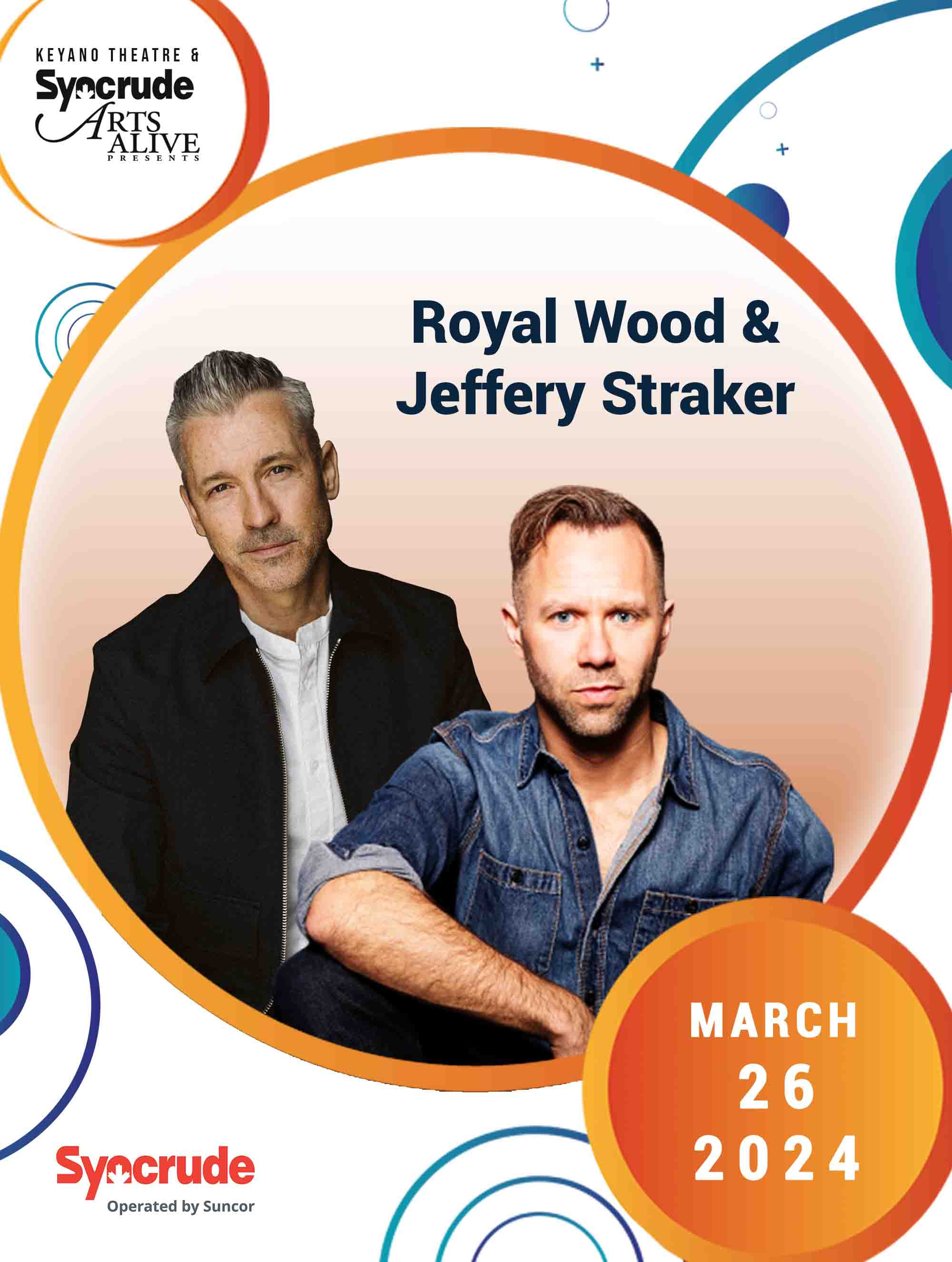 Royal Wood and Jeffery Straker
When
Occurs on Tuesday March 26 2024
Approximate running time: 2 hours
Venue
Event Notes
×
Keyano & Syncrude Arts Alive present Royal Wood & Jeffery Straker
These exceptional singer-songwriters will deliver performances that resonate deeply with audiences of all ages. From Jeffery Straker's rootsy storytelling and captivating melodies to Royal Wood's unique sound and heartfelt compositions, this evening promises to be a celebration of music and storytelling at its finest.
Royal Wood - A singer, songwriter, multi-instrumentalist, and producer known for his undeniable musical talent and unique sound. Royal Wood has continued to evolve and hone his musical craft while maintaining a unique identity. With his eighth full-length studio album, 2022's What Tomorrow Brings, Royal reaches new emotional depths and delivers his most powerful collection of music to date. He has received multiple JUNO nominations, 5 Canadian Folk Music Award nominations, and a #1 added song at Hot AC. Having seen high-profile features on programs such as Grey's Anatomy and Private Practice, his catalogue has amassed over 15 million streams worldwide.
Jeffery Straker - As singer, songwriter, and pianist, Jeffery started honing his skills in a small Saskatchewan farming town on the Canadian prairies, raised by a church organist mother and an auctioneer father. He's gone on to perform over 100 shows per year across Canada, Europe, and Latin America. Jeffery's songs have been used in TV, film and stage productions and saw him named "RootsFolk Artist of the Year" in both the 2020 & 2021 Saskatchewan Music Awards. He took home a Western Canadian Music Award in 2019 and has twice been named 'Keyboard Player of the Year' at the Saskatchewan Country Music Awards.
Genre:
Influences of folk, roots, pop and storytelling
Date & Venue:
Tuesday, March 26, @ 7:30 pm, Keyano Theatre
Ticket Information:
Regular: $42
Don't miss this extraordinary opportunity to witness the brilliance of Royal Wood and Jeffery Straker. Get ready to be moved, inspired, and immersed in their exceptional musical artistry.