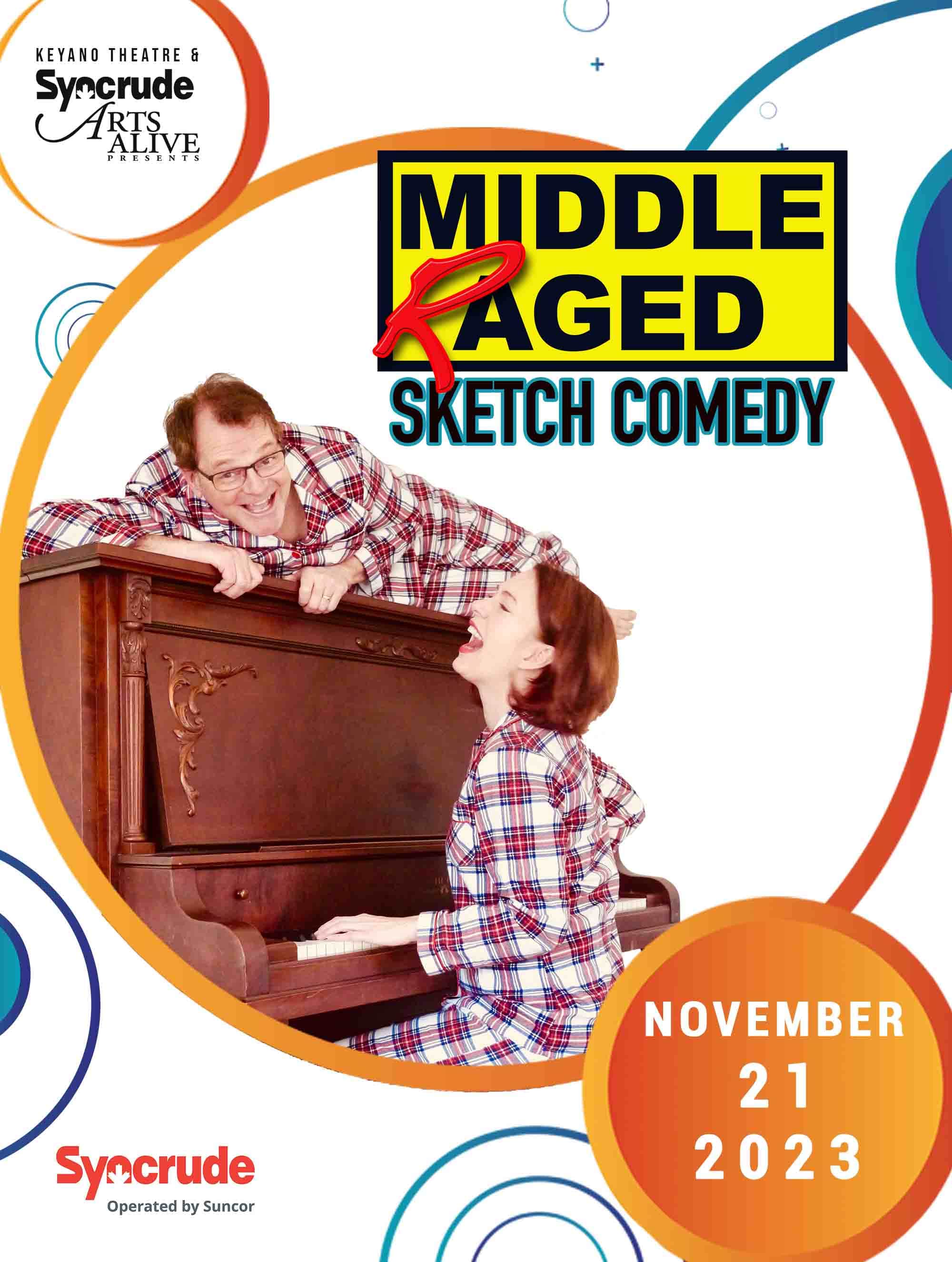 MIDDLE RAGED Sketch Comedy - Starring Gary Pearson and Geri Hall
When
Occurs on Tuesday November 21 2023
Approximate running time: 2 hours
Venue
Event Notes
×
Keyano & Syncrude Arts Alive present Middle Raged: Sketch Comedy starring Gary Pearson & Geri Hall
Are you ready for an evening of laughter and relatable humour as Middle Raged takes the stage? Starring the comedic genius of Geri Hall and Gary Pearson, this sketch comedy show delves into the hilarious and chaotic aspects of life when you find yourself "running out of time." From the challenges of parenting to navigating empty nests, aging parents, and even attempting Outlander-style role play, Middle Raged guarantees an uproarious exploration of middle-aged madness.
Geri Hall has achieved widespread recognition for her appearances on This Hour Has 22 Minutes, her work in feature films, and her Gemini Award win. Gary Pearson's exceptional talent as a writer has garnered him accolades such as the Writer's Guild Award and the Canadian Screen Award, along with multiple nominations. Their combined comedic expertise promises an evening of non-stop laughter and entertainment. Geri Hall, renowned for her work on This Hour Has 22 Minutes and appearances infeature films, brings her comedic brilliance to the stage. Gary Pearson, a highly acclaimed writer for renowned shows such as MadTV, Corner Gas, and JFL All Access, joins her in creating an uproarious experience. Both Geri and Gary have extensive backgrounds in comedy, including performances on The Second City Toronto main stage, which adds to the anticipation of an unforgettable night of laughter.
Genre:
Sketch comedy that tackles the relatable challenges faced by couples during the middle stage of their lives.
Date & Venue:
Tuesday, November 21, @ 7:30 pm, Keyano Theatre
Ticket Information:
Regular: $38.50
Experience the hilarity of Middle Raged as Geri Hall and Gary Pearson bring their comedic prowess to the stage for an unforgettable night of laughter and entertainment. This adult-rated sketch comedy show captures the essence of middle-aged life with wit, charm, and relatable humor that will leave you gasping for breath.