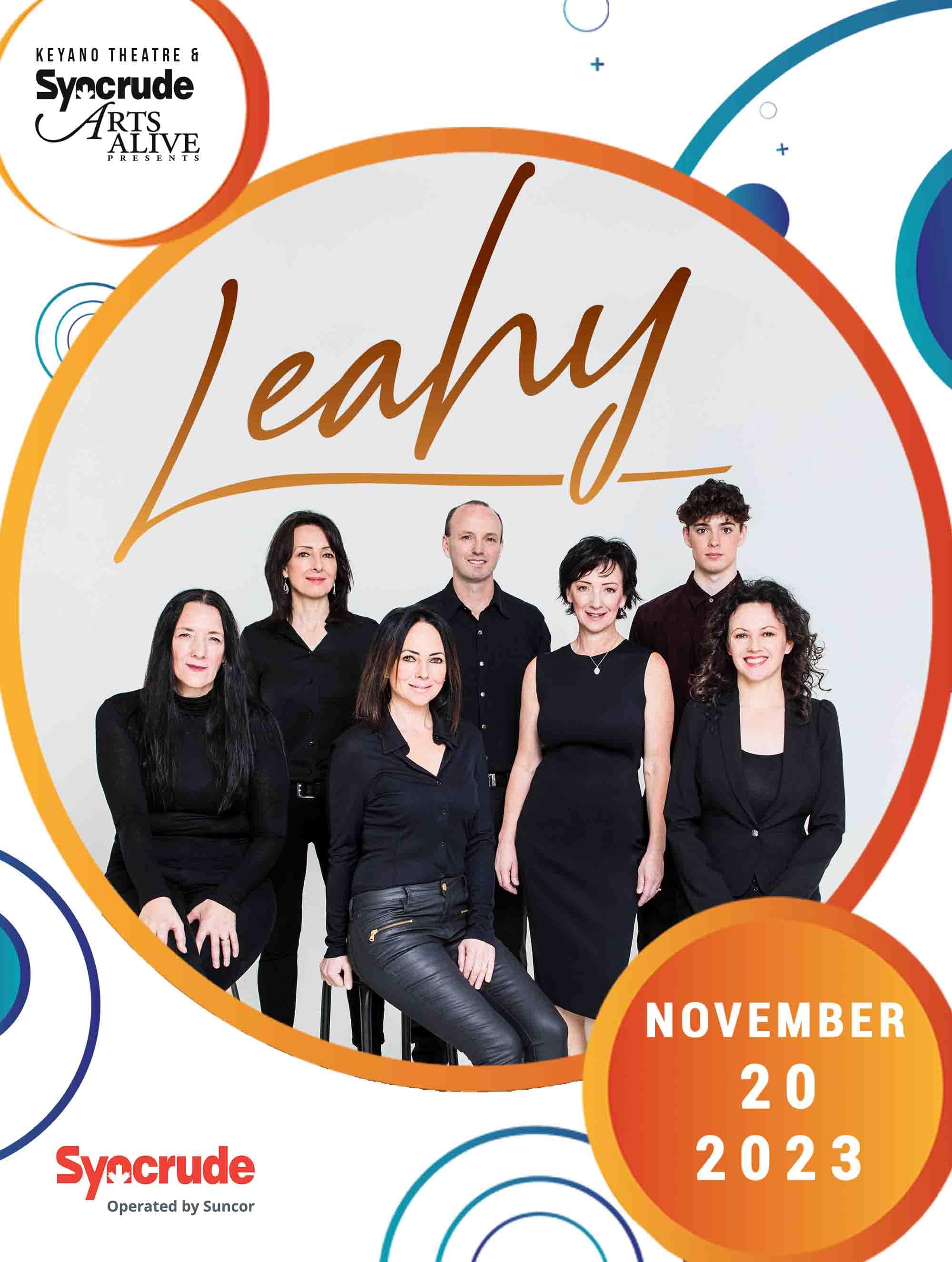 An Evening with Leahy
When
Occurs on Monday November 20 2023
Approximate running time: 2 hours
Venue
Event Notes
×
Keyano & Syncrude Arts Alive present An Evening with Leahy: A Fusion of Tradition and Innovation
Immerse yourself in the spellbinding melodies and exhilarating performances of Leahy, a multigenerational band of dynamic musicians hailing from Canada. Leahy's extraordinary chemistry as a family band shines through their exceptional instrumental skills, layered harmonies, and passionate vocals. Prepare to be amazed by their fiddle-playing, piano, button accordion, drums, bass, acoustic and electric guitars, and the vibrant energy of their step-dancing.
Expect a high-energy performance filled with infectious rhythms, heart-stirring melodies, and a seamless fusion of traditional and contemporary sounds. Leahy's music will transport you to new musical landscapes while keeping their deep-rooted connection to their traditional music heritage.
Leahy is an 11-strong ensemble, featuring a diverse range of talent spanning different generations and family ties. Their passion for music and their remarkable ability to infuse their performances with boundless energy and creativity have made them a force to be reckoned with in the Canadian music scene. Leahy's journey as a band has earned them a well-deserved reputation as one of Canada's most highly regarded musical groups. Their evolution has led them to explore various genres, combining elements of folk, traditional, Celtic, roots, and now even progressive, pop, and rock. With their genuine love for music and refusal to be confined to any one genre, Leahy has crafted a sound that is truly unique and captivating.
Genre:
An eclectic blend of folk, traditional, Celtic, roots, progressive, pop, and rock, showcasing Leahy's diverse musical influences and unparalleled creativity.
Date & Venue:
Monday, November 20, @ 7:30 pm, Keyano Theatre
Ticket Information:
Regular: $55
Experience the sheer brilliance of their performances and witness the evolution of their unique sound. This is a concert that will leave you inspired and amazed. Reserve your seats today for a captivating musical experience that transcends genres and showcases the boundless creativity of Leahy!