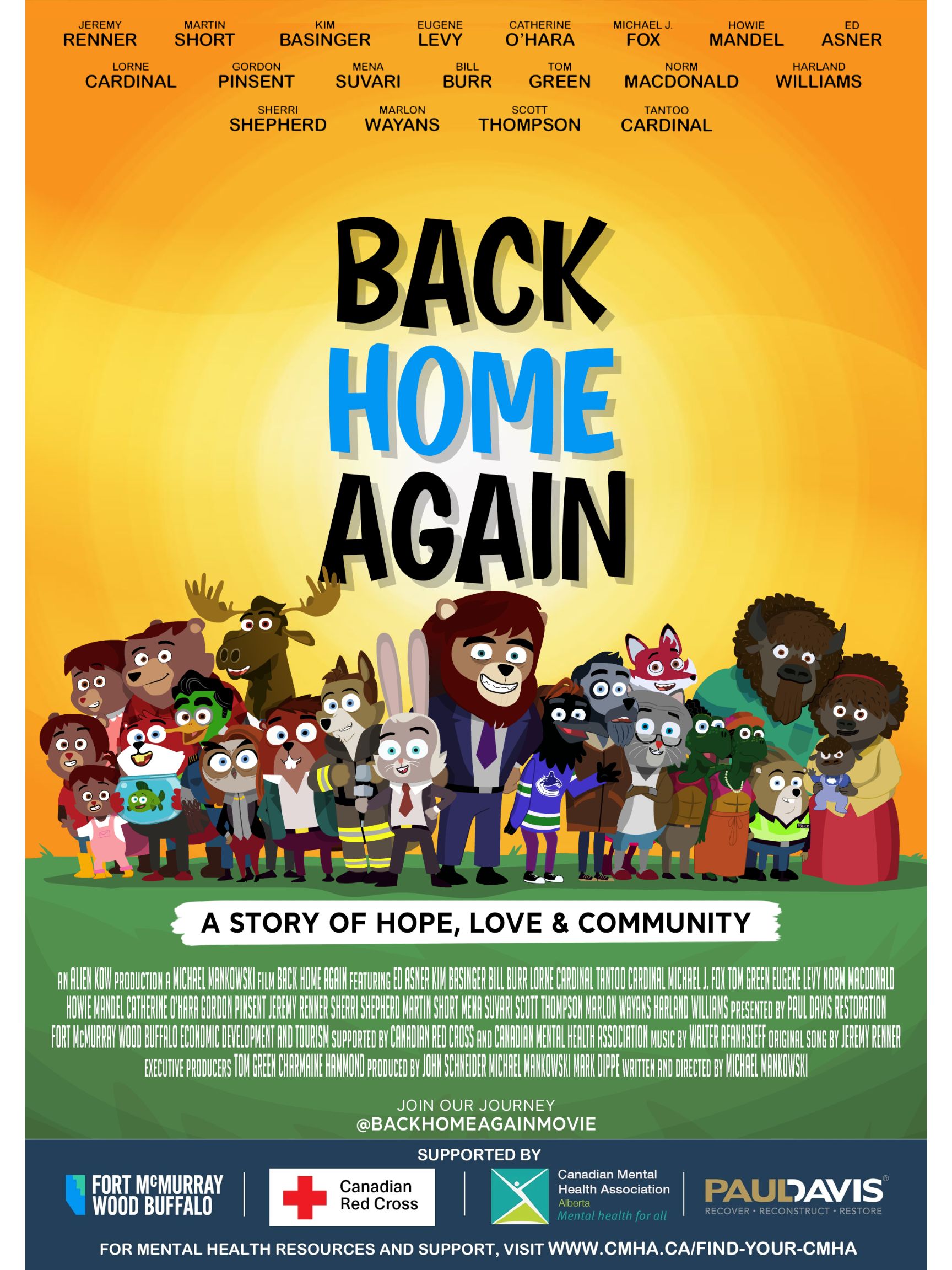 Back Home Again Premiere
When
Runs from Thursday June 23 2022 to Friday June 24 2022
Approximate running time: 1 hour and 45 minutes
Venue
Event Notes
×
Back Home Again
movie will have its Fort McMurray Wood Buffalo premiere on June 23 and 24. The film is written and directed by Michael Mankowski, who was born and raised in Fort McMurray.
Inspired by community resiliency after one of the largest wildfire evacuations in Canadian history impacted the lives of more than 80,000 residents of Fort McMurray and area in 2016, the animated short film titled, Back Home Again, has been brought to life through the support of the Canadian Red Cross, The Canadian Mental Health Association, Paul Davis Restoration Canada, and Fort McMurray Wood Buffalo Economic Development & Tourism.
Told through the eyes of the woodland creatures that inhabit the land of Fort McMurray Wood Buffalo,
Back Home Again
has an all-star voice cast that donated their time to the production, including Jeremy Renner, Martin Short, Kim Basinger, Eugene Levy, Catherine O'Hara, Michael J. Fox, Howie Mandel, Ed Asner, Lorne Cardinal, Gordon Pinsent, Mena Suvari, Bill Burr, Tom Green, Norm Macdonald, Harland Williams, Sherri Shepherd, Marlon Wayans, Scott Thompson, and Tantoo Cardinal.
Following the movie screening on June 23, there will be a panel discussion/Q and A.
Back Home Again official movie trailer.
Rated
All Ages
Dates
Thursday, June 23 @ 5:30PM
Thursday, June 23 @ 8:00PM
Friday, June 24 @ 5:30PM
Friday, June 24 @ 8:00PM
Tickets
Free