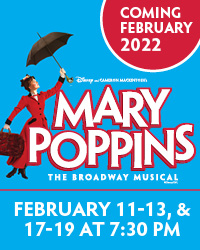 Mary Poppins
When
Runs from Friday February 11 2022 to Saturday February 19 2022
Approximate running time: 2 hours and 30 minutes
Venue
Event Notes
×
Presented by Keyano Theatre Company
Take a "Step in Time" with us and experience the magic that is Mary Poppins. We will go on an exciting, heartfelt and almost mystical journey that will leave you enchanted.
As we journey back in time to England in 1910 to meet the troubled Banks Family. The youngest of the clan Jane and Michael have sent their fair share of nannies running but this time is different; Here comes Mary Poppins! She captures their hearts, takes them on an adventure and changes their lives in way that does wonders to the whole family. A combination of magic, common sense and memorable adventures teach their family to value each other again.
Share this ride with us and experience the Mary Poppins effect. Your night is sure to be supercalifragilisticexpialidocious!
All Ages
Friday, Feb 11, 7:30 PM
Saturday, Feb 12, 7:30 PM
Sunday, Feb 13, 2:00 PM
Thursday, Feb 17, 7:30 PM
Friday, Feb 18, 7:30 PM
Saturday, Feb 19, 7:30 PM
Tickets:
Regular $47
Senior (60+)/Elder/Military $40
Student (ID required) $34
Child (12 & Under) $25