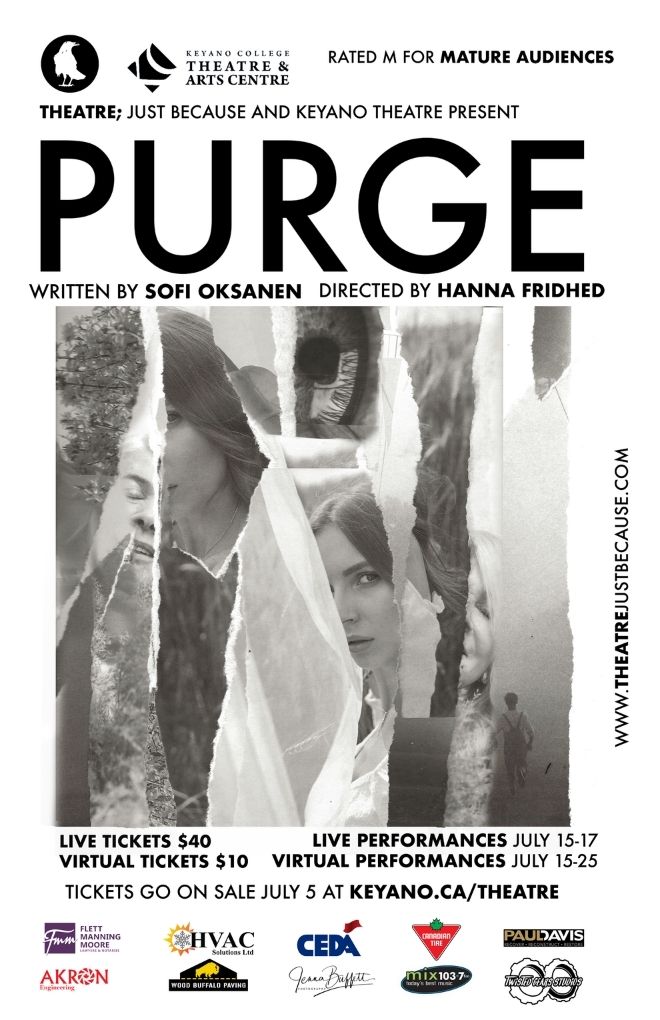 Purge - Streaming Online
When
Runs from Thursday July 15 2021 to Sunday July 25 2021
All Day Event
Venue
Event Notes
×
This is a Virtual presentation of Purge.
Presented by Theatre; Just Because & Keyano Theatre
Purge is a riveting and suspenseful tale of two women dogged by their own shameful pasts. Set in both the years following WW2 and the early 1990s, the play centres on issues still very relevant to our society today.
When Aliide Truu, an older woman living alone in the Estonian countryside, finds a dishevelled girl huddled in her front yard, she suppresses her misgivings and offers her shelter. Zara is a young sex-trafficking victim on the run from her captors, but a photo she carries with her soon makes it clear that her arrival at Aliide's home is no coincidence. Survivors both, Aliide and Zara engage in a complex arithmetic of suspicion and revelation to distil each other's motives; gradually, their stories emerge, the culmination of a tragic family drama of rivalry, lust, and loss that played out during the worst years of Estonia's Soviet occupation.
Purge is a thought-provoking drama unlike any that Fort McMurray has seen in years.
Virtual Event - Streaming Online
July 15 - 25
A Virtual Performance ticket gives you on-demand access to the Purge Virtual Event.
Purchase your Virtual Performance ticket for the day you would like to watch the show, and you can watch at your convenience any time that day.
Tickets
Virtual Performance $10
Rating Mature 18 with Warnings:
Mature language
Flashing (strobe) lights
Simulated violence (physical/sexual)
Gunshots
Simulated alcohol usage
https://www.theatrejustbecause.com/purge