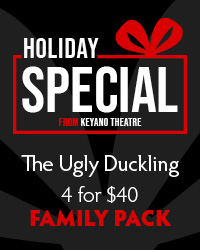 4 for $40 Family Pack
×
Treat your family to an incredible rendition of The Ugly Duckling!
Lined with electroluminescent wire, the beloved story of The Ugly Duckling plays out on stage through a cutting-edge blend of puppetry, technology and dance. The five eggs in Mother Duck's nest, one is the largest and last to hatch. Bigger and paler than the others, this last hatchling is treated as an outsider by Mother Duck and her ducklings. Join us on March 15th for a family night with more than a 30% saving!
This show is not to be missed!
Get 4 tickets to The Ugly Duckling for $40 for a limited time only!
Our Box Office elves are working hard to make these packages just for you! Once you complete your purchase, they will get everything ready, and be in touch to help you select your seats and arrange package pick-up in time for the holidays! Please ensure your contact information in your patron account is accurate. Thank you!